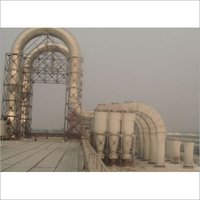 Ring Dryer
Product Description
Since the first day of establishment, we are dedicatedly engaged in providing a wide range of Ring Dryer. Our range of ring dryer is specially designed by our experienced team of professionals for increasing the versatility of the flash drying technology. With the range, we have tried to overcome many of the limitations linked with ring dryer. In addition to this, our products are strictly examined before delivery to ensure their flawlessness and free fromany kind of defects.
Features of Ring Dryer:
Easy to operate
Durable
Requires less maintenance
Robust construction

Our designed range of Ring Drying System consists of a "manifold" or "internal classifier"which differentiate it from flash dryer. Ring drying systems are using centrifugal effect of an airstream passing around a curve for concentrating the product into a moving layer. Adjustable splitter blades are used for returning the heavier and semi-dried material to the dryer.

Owing to this feature, Ring Dryer can process many materials that were earlier considered difficult to dried with the help of a Flash Dryer. On the basis of following application, we are also offering custom designed Dryers for providing best to our clients.

Used in various industries and factories such as food, chemical, mineral and plastics for drying products, these dryers are pneumatic dryers which are designed using latest technologies. In these dryers, solid particles are held air borne under controlled circulation and drying air is renewed constantly.

A special centrifugal classifier designed for these Ring Dryers for internal circulation which is used for separating fine and dry particles by holding the moist particles for longer circulation. Hence, these dryers can efficiently dry many materials together for obtaining an exceptionally quality control on moisture of final product.


Specification Of Ring Dryer:
| | |
| --- | --- |
| Capacity | 50-5000 Kg |
| Max Temperature | 300'C |
| Automatic Grade | Automatic |
| Design | Customized |