Centrifugal Spray Dryer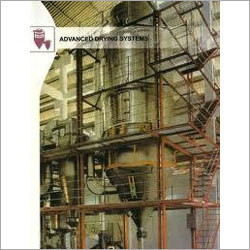 Centrifugal Spray Dryer
Product Description
In order to meet the variegated requirements of our clients, we are specialized in serving our valued clients with a wide range of Centrifugal Spray Dryer. These dryers are used in drying liquid using hot gas.
Our Centrifugal Spray Dryers are very popular for their excellent drying capacity hence are used in various pharmaceutical and food industries. In addition to this, these Spray Dryers are also used for drying various types of Catalysts.

Spray dryer is utilized in changing the form of any mixture, from a liquid state into a solid form. The conversion in state of the medley involves removal of moisture present in it. Moreover, this is attained by spraying the blend through a nozzle, aka emulsion, into a packed chamber with hot air blowing into. Via this passage, each drop of the blend looses its water content and convert from fluid to powder.

Spray dryer is benefited by major streams of markets, for example, in food industries to grand medical firms. This process carved revolutions in the area of its utilisation. As we know, there are many regions on the globe where refrigeration is not a part of natives' lifestyle, so many can't hoard large quantity of products that require cool storage. Therefore, these regions utilize spray dried products, comparatively.

Let's pick a product such as milk and analyze its production and consumption. We know there is a limited supply in many populous cities, so they need external source to reach their demands. Moreover, spray drying reduces the weight of the milk by 80-90 percent which make it efficiently transferable and ensure a cut down on the shipping charges.


Features Of Centrifugal Spray Drying Plant:
Easy to install
High in strength
Durable
Excellent finish
Rust-proof in nature

All spray dryers have atomizer, single-fluid pressure swirl nozzles or spray nozzle which is used for dispersing liquid into a controlled drop sized spray.

There are also two-fluid or ultrasonic nozzles which are used for some other applications. As the requirement of process appropriate drop size can be achieved varying from 10 to 500 micrometers.

Most commonly 100 to 200 micrometer diameter range drops are used. And, often dry powder is free-flowing.

The hot drying gas is passed through co-current or counter-current flow towards the atomizer direction. In addition to this, the counter-current flow method helps in increasing the residence time which is paired with fluidized bed system.


Specification Of Centrifugal Spray Dryer:
| | |
| --- | --- |
| Design | Standard |
| Capacity | Customized |
| Max Temperature | 1000 degree Celsius |
| Automatic Grade | Automatic |
Trade Information
3-4 Week

Dadra and Nagar Haveli, Chandigarh, Himachal Pradesh, Andaman and Nicobar Islands, Uttarakhand, Daman and Diu, Lakshadweep, Nagaland, South India, North India, East India, West India, Andhra Pradesh, Assam, Arunachal Pradesh, Bihar, Goa, Haryana, Jammu and Kashmir, Jharkhand, Karnataka, Kerala, Madhya Pradesh, Maharashtra, Mizoram, Meghalaya, Manipur, Punjab, Pondicherry, Rajasthan, Sikkim, Tamil Nadu, Telangana, Tripura, West Bengal, Gujarat, Uttar Pradesh, Delhi, Central India, Odisha, Chhattisgarh, All India