Continuous Fluid Bed Dryer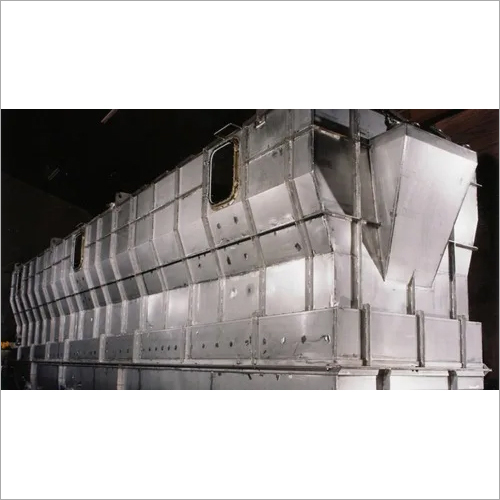 Continuous Fluid Bed Dryer
Product Description
With our wide industrial experience, we are engaged in providing a wide range of quality approved range of Rotary Fluid Bed Dryer. These dryers are considered ideal for constant and falling rate drying. Designed using advanced technologies, these dryers are working on the principle of phenomenon that solid materials with well-defined particle size distributions act as liquid when fluidized by air. These dryers are widely used for powdered materials and granules with average size of 50 - 2000 microns. Furthermore, we are offering these Rotary Fluid Bed Drying Plant within promised time frame.
Features Of Rotary Fluid Bed Dryer:
Rust-free
Easy operation
Long service life
Perfect finish

Fluid Bed Drying has many advantages compared with other drying techniques and equipotent available in the market. These are widely demanded for their constant and falling rate drying methodology.

Our dryers work on the phenomenon that solids materials with a well defined particle size distribution behave as liquid when fluidized by air. Residual moisture can be reduced by preheating the air.

Fluid Bed Dryer is used for drying for powder and granules of average particle size 50-2000 microns. Vibro Fluid Bed Dryer helps the movement of solids and drying process.

Our company is a well known supplier of Fluid Bed Drying Plant, which is used for fluidization of materials.
These materials are characterized by following physical properties:
Wide particle size distribution
Low strength of wet or dry particles
Stickiness or thermo plasticity of the particles
Pasty properties of the wet feed

In a vibrated fluid bed drying plant, material can be easily transported with the combined effect of fluidization and vibration. Fluidization velocity can be selected as per need for minimizing the smaller particles. This is also effective in avoiding gas bubbling in the fluid bed hence minimizes attrition. In addition to this, residence time can be adjusted easily by vhanging the bed height, through the overflow weir position. Furthermore, there is option for a cooling section by partitioning of the plenum chamber.


Typical products handled:

Salt
Milk products (used as a secondary dyer)
Chemicals
Tea

Fluid Bed Dryers can be designed as the application in which is used and are clasified as direct or indirect (air heating method) and +co-current or counter current (material air contat).

The material to be dried i uniformly dispersed over the entire cross-section, by use of internals designed based on the material properties. Heated ar then passes through the falling material, resulting in uniform drying. The Seals are provided at the ends to ensure minimum air leakage.


The advantages of rotary dryers are:
Cost effective
Minimal maintenance cost
Ideal for high volumes
High thermal efficiency
Typical products handled using this dryer:
Sand
Coal
Ores
Maize germs
Clays
Industrial sludges
Specification Of Rotary Fluid Bed Dryer:
Material : Stainless Steel
Power : 30 kW
Phase : Three Phase
Frequency : 50 Hz
Voltage

: 415 V
Speed : 2800 RPM
Max Temperature : 35 -80 Celsius
Grade : Automatic
Design : Standard