LSD 01 Laboratory Spray Dryer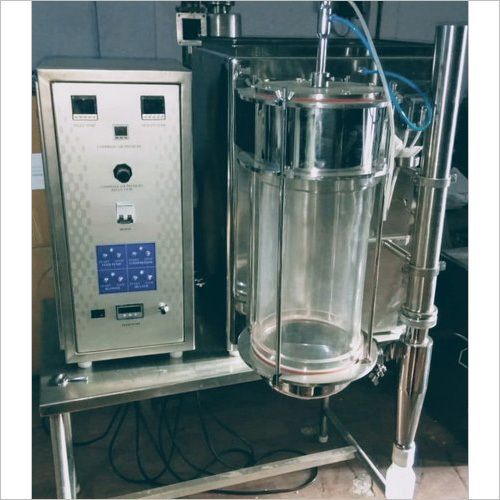 LSD 01 Laboratory Spray Dryer
Product Description
We are one of the leading manufacturer, exporter and supplier of LSD 01 Laboratory Spray Dryer. Manufactured using high quality raw materials, these dryers consist of an in-built compressor which is supplying air into the nozzle for atomization of fluid. Due to the large surface area, drying is very rapid owing to which sharp drop in temperature can be noticed. These dryers are completely checked on various quality parameters to detect all the flaws before delivering. Furthermore, we hold expertise in providing these LSD 01 Laboratory Spray Dryer in various specifications at most reasonable rates.
Features Of Laboratory Spray Dryers:
Sturdy construction
Excellent resistance aganist corrosion
Reliable performance
Optimum strength
Principle Of Laboratory Spray Drying Plant:

Peristaltic pump of dryers is using for delivering liquid from one container to 2 fluid nozzle mounted on drying chambers. Compressed air from compressor is supplied to nozzle, which results in atomization of fluid into a fine spray. Air in the blower gets heated with the help of an electrical air heater which blows through drying chamber. Drying is very fast because of large surface area which decreases temperature. In cyclone separator, dry powder particles gets separated from which gets collected in glass collection bottle. And, the exhausted air is released through a flexible SS hose into the atmosphere. In addition to this, a bag filter is also provided for secondary powder collection as per the requirement of clients.

Construction Of Laboratory Spray Dryers:
Blower, air compressor, pump and electrical air heater are placed in a panel made of stainless steel which is easy access.
A fine cloth filter is used for filtering air entering the panel
Chambers and cyclones are made up of borosilicate glass fitted with clamp fillings
Dryer is very easy to assembly and remove.
Controls Of Laboratory Spray Drying Plant:

These dryers are easy to operate fitted with inlet air temperature which is precisely controlled by the inlet temperature PID controller.

Panel includes:

Inlet Temperature controller.
Outlet Temperature indicator
On/Off switch and indicator for feed pump
Pump speed control with LCD display
On/Off switch and indicator for blower
On/Off switch and indicator for heater
On/Off switch and indicator for air compressor
Compressed air pressure control with LCD display of air pressure.
Technical Specification Of Laboratory Spray Dryers:

| | |
| --- | --- |
| Evaporation rate of water at inlet temperature of 250 C | Approx 1500 ml/hr. |
| Air inlet temperature range | Up to 250 C |
| Heater capacity | 3 kwh |
| Spray system | 2 Fluid nozzle |
| Spray / Hot air flow | Downward Co-current/ Upward counter co-current |
| Air compressor | Inbuilt |
| Power supply | 230V-50Hz. 15Amps |
| Dimensions | 230V-50Hz. 15Amps |